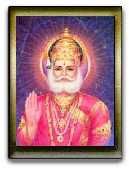 Agrasen.com is a non-profit effort to establish presence of Agrawal community on the web. Some of the objectives we have in mind are listed below. We are open for your suggestions.
Objectives :
To establish a network and support group of ourselves(Agrawals) and our children.
To provide role models and create an exciting environment for children.
To learn more about our proud heritage, traditions.
To provide a platform for matrimonial services exclusively for Agrawal community.
Please contact us for detailed information
We are currently operating from Pune. Agrasen.com
C- 301, Nivedita Teraces,
65/2 Kedari Nagar Pune - 411040
Tel : 020-26853361Email : sunil@agrasen.com

Technical Team
Sunil Poddar - Chief Designer and Project Lead
Nitin Kedia - Chief Developer
Abhishek Agrawal - Assistant Developer
Abhishek Agrawal with Nitin Kedia did the complete programming, testing and documentation of the site by working days and nights.
We are looking for volunteers from various regions right now. Please let us know if you are interested in contributing some of your valuable time for the community.